Mercedes-Benz | Various| Android 10 | Qualcomm | Octa Core | 4GB RAM & 64GB ROM | QSM1050A
Mercedes-Benz | Various| Android 10 | Qualcomm | Octa Core | 4GB RAM & 64GB ROM | QSM1050A

10.25" Android 10 Octa-Core 64Bit Qualcomm Processor Car Multimedia Navigation System with Anti-reflective Screen 2K Video Custom Fit For Mercedes-Benz A-Class W176, CLA-Class C117, GLA-Class X156 with COMAND APS NTG5.1 and NTG5.2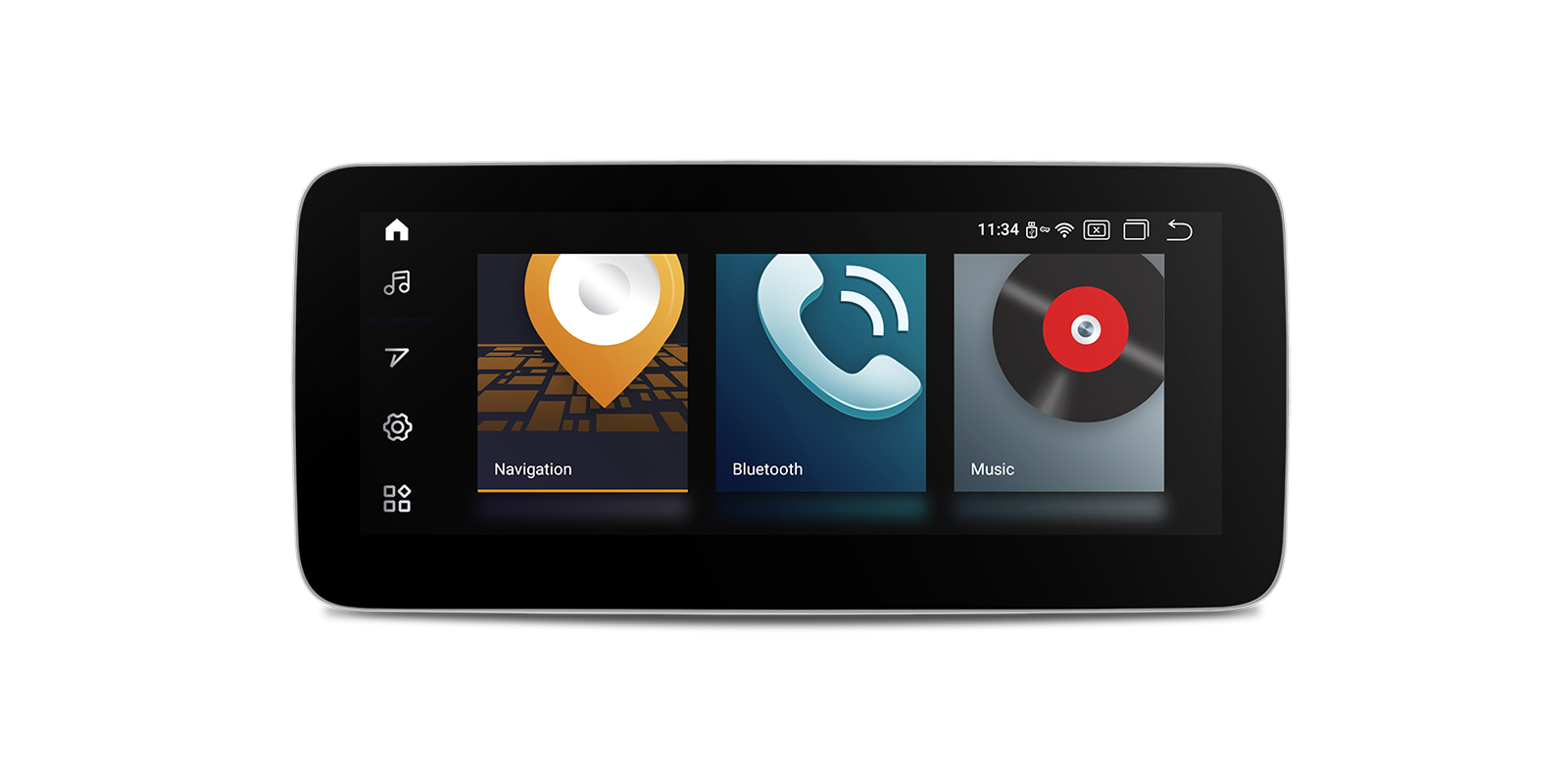 THE
LATEST


ANDROID

VERSION
Anti-Reflective
The 1280x480 high pixel density curved glass provides bright and vibrant video and visual effects, while the multi-touch screen offers a remarkably fluid and intuitive experience.
The special coating on the screen provides the ideal solution to reduce glare and to diffuse harsh reflections from sunlight. This offers the optimal viewing experience with great clarity and intensity, granting you exceptional picture quality while also ensuring viewing comfort. 
Perfect Integration of Android and your Original UI
Made for Mercedes-Benz
XTRONS' latest car stereo is tailor made for Mercedes-Benz vehicles and their original OS. Not only matching the dashboard for a seamless appearance, the system perfectly integrates the latest Android OS into your vehicle, making the dash smarter than ever. Now without uninstalling your CD player, radio or system, you can simply swipe the screen and enter a new world of entertainment and 4G communication.
A new world of entertainment, without uninstalling your old stereo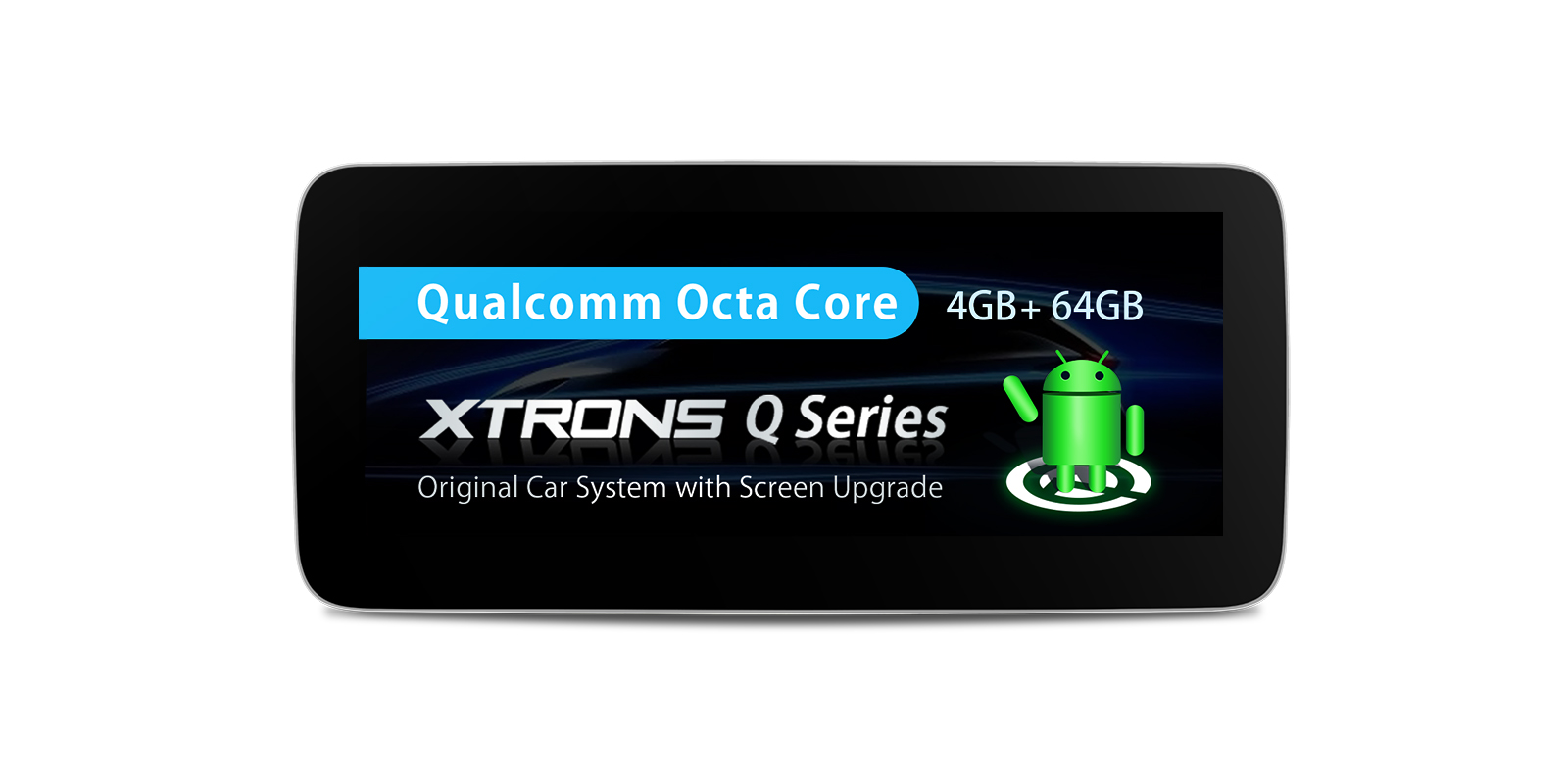 EXCELLENT MULTITASK CAPABILITY
Smooth Running - Qualcomm Processor plus 64GB ROM and 4GB RAM
The Qualcomm Octa-core 64 bit 2.0GHz processor enables you to play all of your favourite games, and run the latest applications both smoothly and efficiently.
More ROM means you can do much, much more. The internal memory of 4GB makes data processing quick and efficient, while the 64GB storage has plenty of space for you to store your favourite apps and have them run beautifully. 
BUILT-IN LATEST CARPLAY/ANDROID AUTO
Extend Your Smartphone to Your Car
We have added the latest CarPlay and Android Auto into the XTRONS Q series car stereos, which brings you an incredibly intuitive way to access GPS, calls, music, Google Assistant and Siri from mobile phones while on the road for a truly connected experience. 
Wireless CarPlay and Wired Android Auto

Supports Android phones with Android 4.3 and above.

Supports iPhone 5 and later models with iOS 8 and above.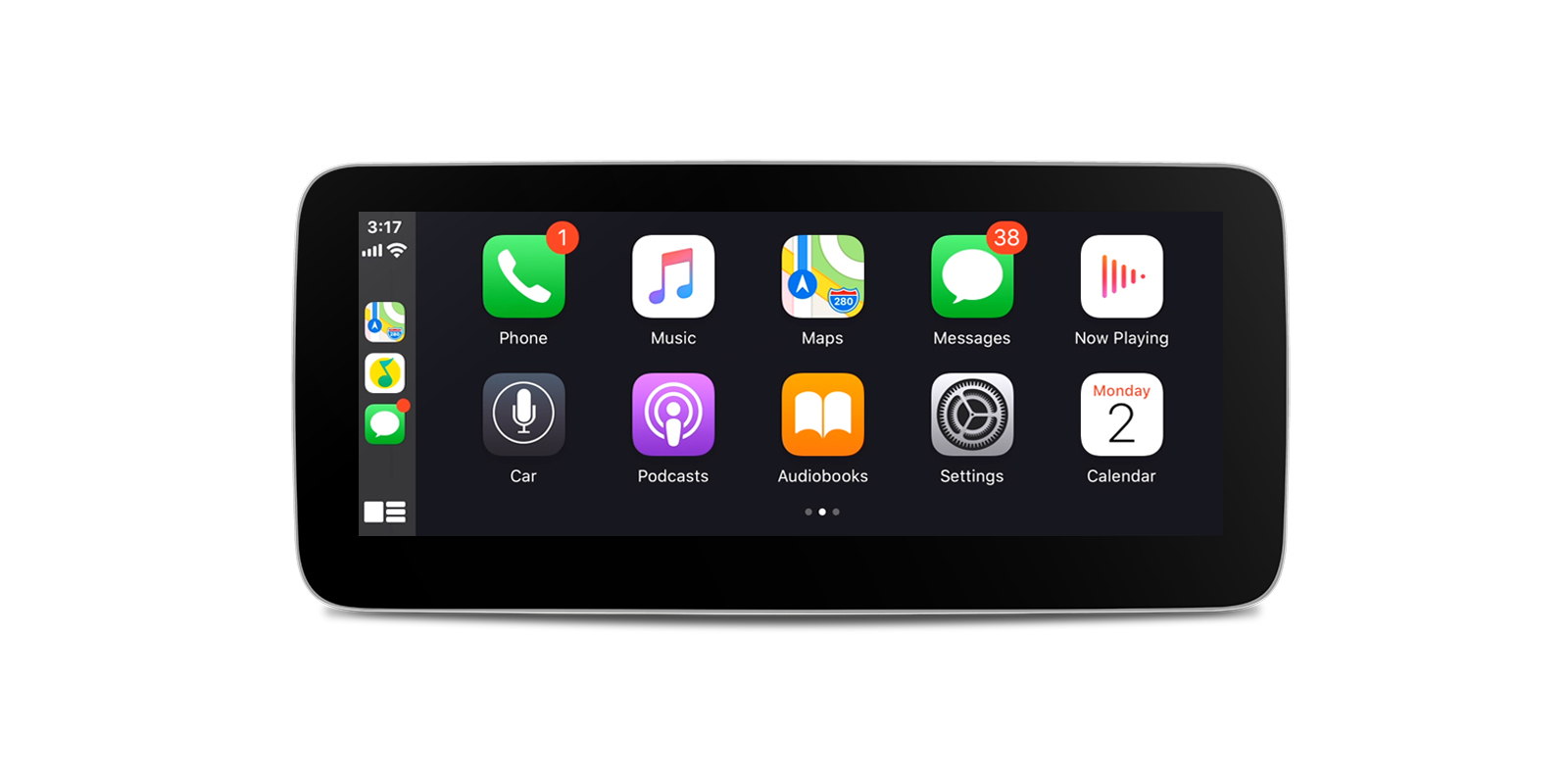 IPS Touch Screen
Crystal Clear
The 10.25" IPS display will amaze you with its brilliant, high-resolution image quality. The anti-glare touchscreen delivers outstanding clarity, contrast and brightness.
Catch every single crisp, clear and vibrant picture from the expansive 178° viewing angle, without eye fatigue or discomfort. 
YOUR FAVOURITE
ORIGINAL FUNCTIONS

RETAINED
Detached Bluetooth Module
Detached WiFi Module
HQ Radio Chip
HQ Amplifier Chip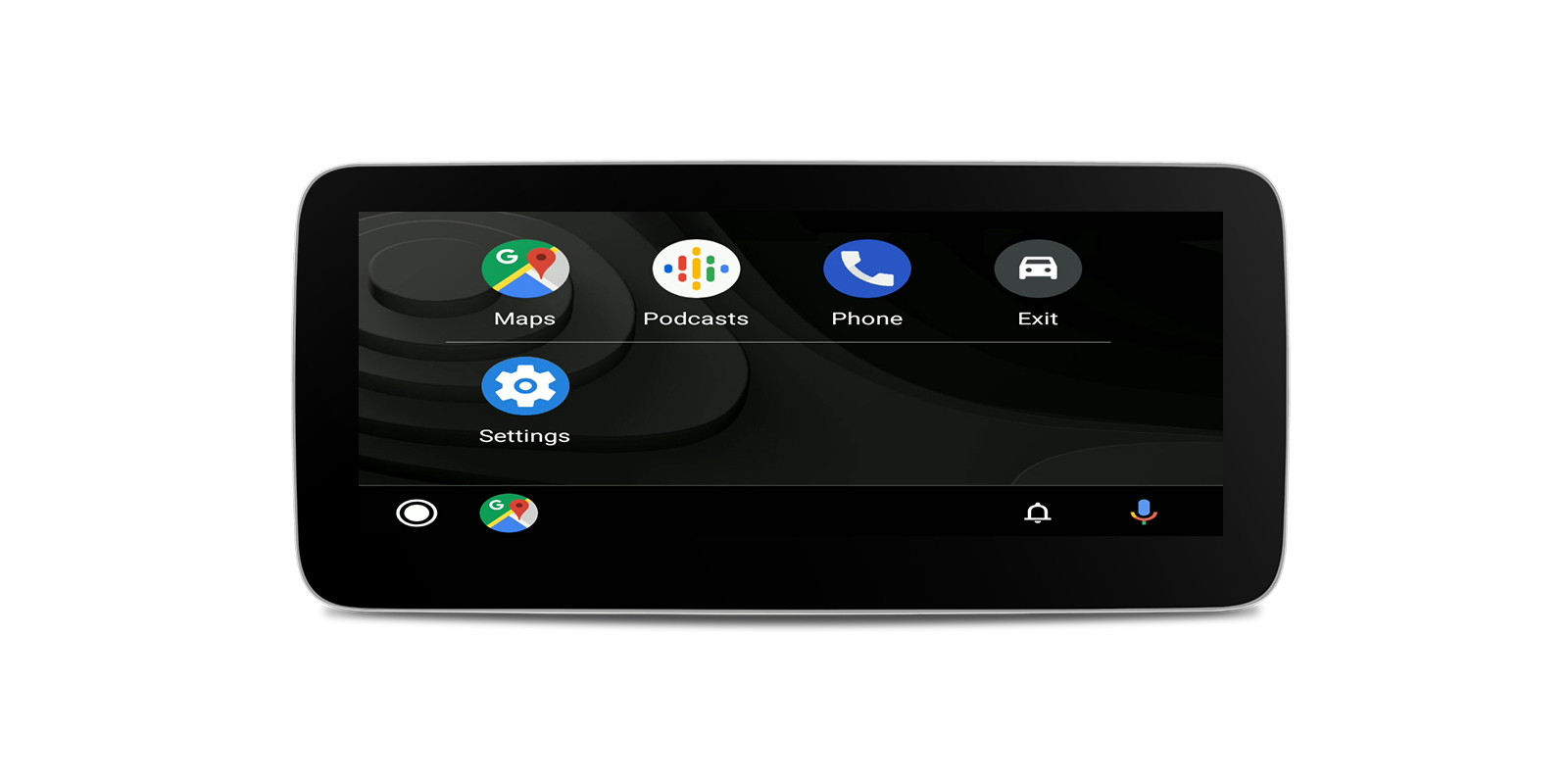 64GB ROM/4GB RAM
Super Accurate GPS Chip
Supports Split Screen
COMAND System Compatible
Original Car Information Display
Integrates car centric functions. The speed, fuel level, oil pressure and safety warnings are now on the dashboard in the theme you choose.
Speed | Engine Speed | Remaining Fuel | Temperature | Parking Brake | Seat belt reminder
Original Radio 
Original CD Player
Backup Camera Display
Bluetooth
Video Input Ports
A DVR captures your journey from the dashboard, giving you features such as collision footage which can bring your insurance premium down. A front or reversing camera provides a more accurate image of the world around you, meaning a safer ride and safer manoeuvres for you and your passengers.
Note: The DVR, front view camera and reversing camera are not included (XTRONS DVR023S, DVR025S, DVR027S, DVR028 and DVR030 are compatible)
Split-Screen Mode
Now you can switch apps and run two apps on screen side by side. So go ahead and stream your favourite music in while navigating, or make a phone call with your browser open. Simple and intuitive.
ENTERTAINMENT
EXPERIENCES &
FUNCTIONALITY
LIKE NEVER BEFORE
Intuitive User Interface
Large icons for you to easily control the main functions, so you can stay focused on the road.
---
2K Video Player
Equipped with the latest video decoder, supports playing 2K video and is compatible with most video formats, allowing you and your passengers to view all of your favourite movies on the road.
---
Built-in GPS Receiver Module with External GPS Antenna
Supports Sygic, iGO, Waze and any other navigation software that is compatible with Android OS. Never worry about getting lost now.
---
Hands-free Calls and Audio Streaming - Supports Bluetooth 5.0
A discrete Bluetooth module, which ensures full compatibility with the latest phones with Bluetooth 5.0.
---
Dual Wi-Fi Band Connecting
Works well with both 2.4GHZ and 5GHZ WiFi. Be ready for the new generation of 5G networks for better, faster and more reliable connections
---
DAB+ Tuner Ready
Connect a USB radio receiver stick and you can enjoy better sound quality and stronger signal to digital audio channels.
(DAB+ radio receiver stick is not included. XTRONS USBDAB01, USBDAB02, and USBDAB03 are compatible). 
---
COMAND System Retained
Retains the COMAND system control to allow ease of access to the full range of functions and navigation. (COMAND system is supported in both the original system and the Android system.)
---
Amplifier System
Retains original fibre optic sound system, e.g., your Harman Kardon.
CUSTOMISE
YOUR EXPERIENCE
Explore your options and maximise your system with our range of accessories. Make the most of in-car technology.
DAB+
Enjoy the audiophile-level sound in your car
XTRONS USBDAB01, USBDAB02 and USBDAB03 are compatible
TPMS
Monitors your tyre pressure and temperature
XTRONS TPMS07 is compatible
OBD2
A window for you to diagnose your car status
DVR
Helps you record your journey on the road
XTRONS DVR019S, DVR023S, DVR025S, DVR027S, DVR028 and DVR030 are compatible 
KEYBOARD
Makes the input of information easy
XTRONS AMK003 is compatible
CAMERA
Ensure the safety of your driving
XTRONS CAM005/CAM006/CAM007/CAM009/CAM001F are compatible
CAR AUTO PLAY
The best car connection experience for your smartphone
XTRONS CP02/CP03 are compatible
MICROPHONE
Makes hands free Bluetooth safer and easier
SIZE
Face Panel: 283x129mm
ACCESSORIES INCLUDED
1 x ISO Wiring Harness
1 x LVDS Box 
1 x Audio Cable
1 x USB Cable
1 x GPS Antenna
1 x 4G Antenna
1 x Mini Speaker
1 x User Manual
1 x Installation Instructions
DESIGNED FOR Mercedes-Benz VEHICLES
Applicable Models
For A-Class W176 (2016-2018) COMAND APS NTG5.1 and NTG5.2
For CLA-Class C117 (2016-2018) COMAND APS NTG5.1 and NTG5.2
For GLA-Class X156 (2016-2018) COMAND APS NTG5.1 and NTG5.2
This unit is for the above Mercedes-Benz vehicles that come with NTG NTG5.1 and NTG5.2. 
Please see QM1045A if your vehicle comes with NTG4.5 or NTG4.7. 
Important Notes:
1. Please make sure your vehicle's original system is COMAND APS NTG 5.1 or NTG 5.2 before purchasing. The NTG 5.1/5.2system has the following features: 
4 pin LVDS port 
New Telematic Generation 5.1/5.2 UI
2. Not all 4G bands are supported, this version of the 4G module does not support United States and Canada Carriers. 4G supports internet SIM data ONLY, not phone calls. You can make voice/video calls via different apps.
13 YEARS' EXPERIENCE
In-Car Entertainment
XTRONS has been working continuously to bring the latest technology and concepts to your driving experience. We aim to develop long-lasting quality products with excellent customer service, allowing us to lead the aftermarket in-car entertainment industry.
The Xtrons Commitment
XTRONS is committed to providing high quality products and outstanding customer service, by ensuring that we meet and exceed industry regulations and standards, from manufacturing to distribution.
High and Low-Temperature Test between -20° and +80°
Electrostatic Test
8-hours Accelerated Aging Test
Verified In Car Test
Impact Test
1.2 Meters Drop Test
HD

High Definition provides a crisp resolution, maximising your in-car entertainment experience.

Apple Play

Connect your iPhone to your car stereo via the USB port and make the most of your phone's fabulous features, videos and music!

Bluetooth

Hook up your head unit to any Bluetooth device and access music, share videos and make calls hands-free.

4G

Make the most of surfing the internet without relying on Wi-Fi. Optional dongle required.

3G

Enjoy the ability to roam the internet freely without restriction. Optional dongle required.

Wifi

Built in Wi-Fi allows for faster LTE download speeds and greater access to the internet, wherever you are.

Touch Screen

Multi-touch screen, provides a remarkably fluid and intuitive operation.

GPS

Licensed Kudos maps for Windows CE models. Google Maps, iGo, Sygic are available for download on Android models, so you never get lost.

USB

A built-in USB port to upload, download & connect your music, files and information on the move.

DVB_T

Benefit from Digital Video Broadcasting & stream straight to your unit with an optional receiver.

SD

The SD card portal allows for additional access to your personal files and information, for easy exchanges.

DAB

Giving you more choice and access to your favourite digital radio stations.

Octa Core

An eight-core configuration which allows optimum speed and performance, especially when multitasking.

Microphone

Making hands-free Bluetooth easier and safer, as callers can hear you with improved clarity. Optional mic required.

OBD

Retrieve real-time data, in an easy to read format, allowing you to understand any troubles with your car's computer.

TPMS

Receive real-time information about the pressure, temperature and performance of your tyres, for additional safety.

DVR

External DVR helps to record your journeys for added peace of mind, ultimately improving your safety and security on our busy roads. Optional DVR required.

Reversing Camera

Have confidence when reversing. Reversing cameras help you to see clearly what's behind you. Optional camera required.

Integrated 4G

Enjoy fast streaming mobile data directly to your dashboard.

Android Auto

Connect your Android smartphone to your car stereo display effortlessly. Get all the great Android features on your dashboard.
ICE/HU/QSM1050A
Support Video
Product Support
Installation Videos

Product Videos

User Manuals

User Guides

Customer Support