Bluetooth FM Transmitter Car Charger | FMBT02
Bluetooth FM Transmitter Car Charger | FMBT02

Car Bluetooth FM Transmitter Wireless MP3 Player with Dual-USB Ports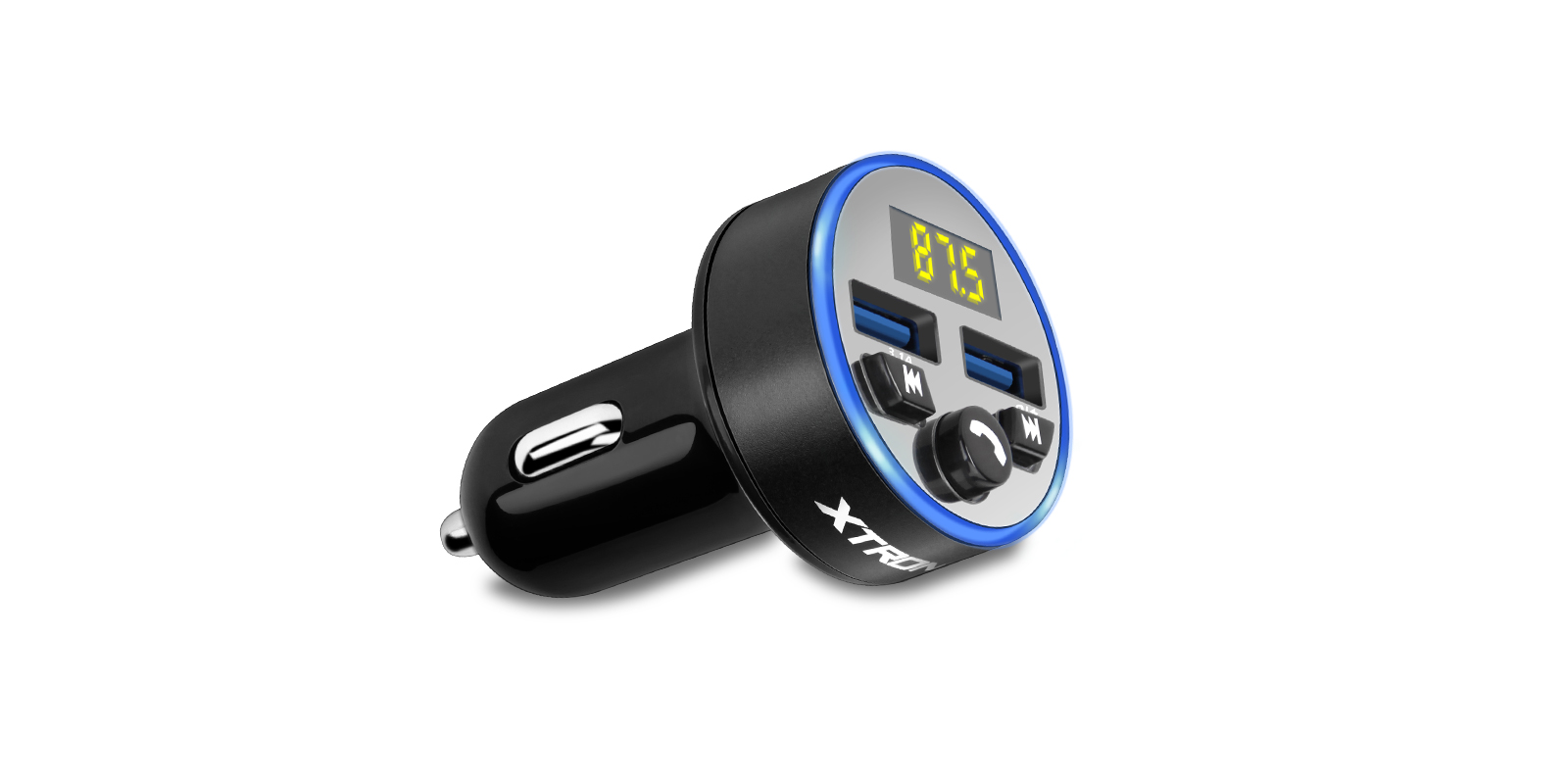 Wireless FM Transmitter Bluetooth Car Charger 
Supports hands-free phone calls and playing music over Bluetooth.
Supports FM transmitters for streaming audio with 4 preset frequencies: FM87.5, FM90.0, FM100.0, and FM108.0.
3.1A Output Current
Easy and convenient operation via the multifunctional button.
Efficient and powerful USB charging.
Compatible with all car models.
In Bluetooth mode, short press the thumbwheel to answer/hang up phone calls.
In music mode, short press the thumbwheel to play/pause the music.
By long pressing the thumbwheel you can change frequencies. Left scroll the thumbwheel to play previous songs and right scroll to play next songs.
How to Use
1. Plug the FM Transmitter into the cigarette lighter socket in the car. 
2. Press the keys on the FM Transmitter to select the same frequency (frequency range: FM87.5-108) that you set on the car stereo. 
3. Enable Bluetooth connection on your smartphone, and pair your smartphone with this FM transmitter. 
4. The FM Transmitter will start to stream the music or phone call to your car audio speakers. 
Specifications:
Input: 12-24V
Output: 5V / 3.1A
Size: 38mm (diameter) x 63mm
Package Includes:
1 x Bluetooth FM Transmitter Car Charger
13 YEARS' EXPERIENCE
In-Car Entertainment
XTRONS has been working continuously to bring the latest technology and concepts to your driving experience. We aim to develop long-lasting quality products with excellent customer service, allowing us to lead the aftermarket in-car entertainment industry.
The Xtrons Commitment
XTRONS is committed to providing high quality products and outstanding customer service, by ensuring that we meet and exceed industry regulations and standards, from manufacturing to distribution.
High and Low-Temperature Test between -20° and +80°
Electrostatic Test
8-hours Accelerated Aging Test
Verified In Car Test
Impact Test
1.2 Meters Drop Test
Product Support
Installation Videos

Product Videos

User Manuals

User Guides

Customer Support