Universal | Reversing Camera | CAM716
Universal | Reversing Camera | CAM716

XTRONS 3 in 1 Camera with Sensors Wide Angle Reversing Camera with inbuilt Parking Sensor
XTRONS 3 in 1 Camera with Sensors
Wide Angle Reversing Camera with Inbuilt Parking Sensor
If you are looking for a camera and a single reversing sensor all built into one, then the XTRONS CAM716 is a sure contender. With a single, easy installation, you will have the safety and security of a rear view camera combined with the audible sound of a parking sensor, all built into the same housing. The parking sensor will activate alongside the camera, and will give an audible alarm sound when the vehicle approaches too close to an object within the detection zone.
The high-definition resolution of the camera and 170º wide viewing angle ensure full visibility to the back of your car whilst reversing.
Supports Night Vision
The XTRONS CAM716 has two built-in LEDs, which will turn on automatically whenever the light conditions drop to a level too low for the image sensors to produce a high quality picture, thus ensuring a clear image even in low light and darkness.
Supports Parking Radar Sensor
As you reverse the vehicle, the parking sensor will activate automatically alongside the camera. An alarm sound will ring should the vehicle approach too close to an object within the detection zone.
Double parking sensors and reversing camera in one 

Compatible with all after-market head units supporting Video-In function 

Water-proof and shock-proof

High quality and easy installation

170º wide angle viewing

Night vision LEDs

High definition and clear image display

Color digital OSD with park line display

Intelligent distance-measuring camera with a long detected distance (0.3 - 2.0M)
Size:
Package Includes:
1 x Camera & Parking Sensor

1 x Power Cable

1 x Video Cable

1 x Buzzer

6 x Screws

1 x Bracket (Big)

1 x Bracket (Small)

1 x User Manual
13 YEARS' EXPERIENCE
In-Car Entertainment
XTRONS has been working continuously to bring the latest technology and concepts to your driving experience. We aim to develop long-lasting quality products with excellent customer service, allowing us to lead the aftermarket in-car entertainment industry.
The Xtrons Commitment
XTRONS is committed to providing high quality products and outstanding customer service, by ensuring that we meet and exceed industry regulations and standards, from manufacturing to distribution.
High and Low-Temperature Test between -20° and +80°
Electrostatic Test
8-hours Accelerated Aging Test
Verified In Car Test
Impact Test
1.2 Meters Drop Test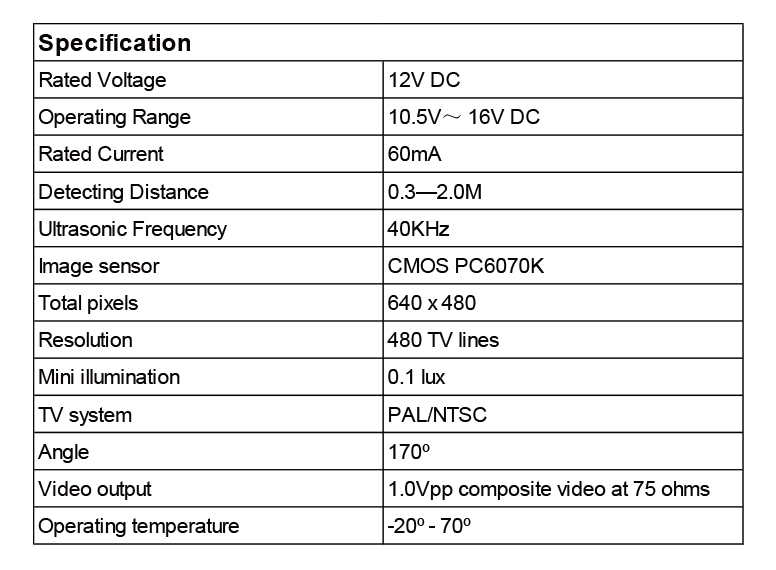 Product Support
Installation Videos

Product Videos

User Manuals

User Guides

Customer Support