Tyre Pressure Monitoring System | External Sensors | TPMS01
Tyre Pressure Monitoring System | External Sensors | TPMS01

Car Auto TPMS Tire Pressure Monitoring System for XTRONS Android Units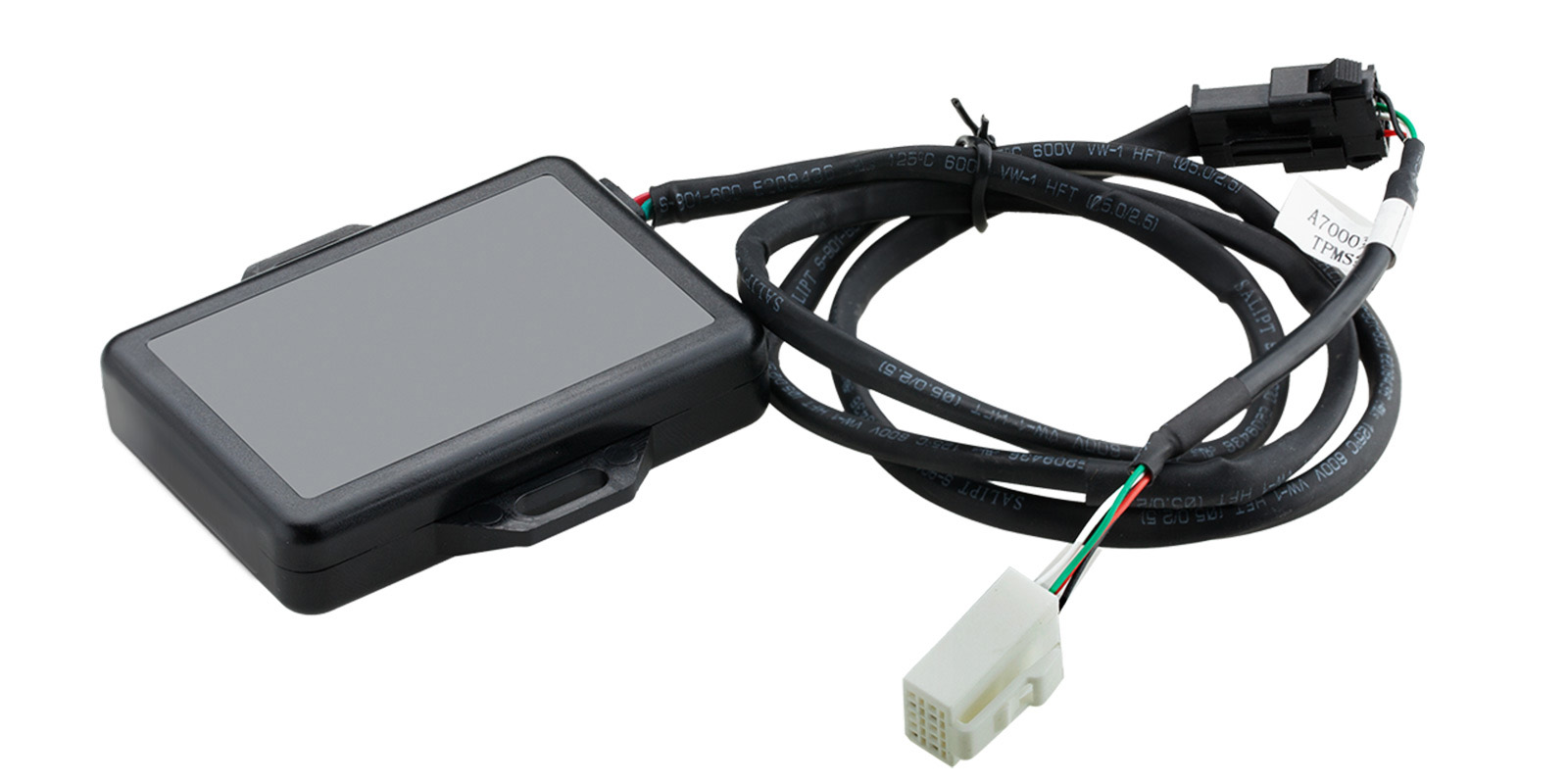 Car Auto TPMS Tire Pressure Monitoring System for XTRONS Android Units
Tire Leaking Alert / High & Low Pressure Alert / High Temperature Alert / Low Voltage Alert / Sensor Failure Alert
Note: This TPMS unit will work with vehicles up to a max weight of 3.5 ton.
XTRONS Tyre Pressure Monitoring System (TPMS) is designed specifically to increase driving safety and to provide a better understanding of your vehicle's tyre conditions. Once you have correctly installed the TPMS, these sensors will automatically monitor tyre pressure and temperature, and transmit real-time statistics to the receiver.
- Real-time monitoring of pressure and temperature for each tyre.

- Monitoring of voltage of sensor batteries.

- Accurately detects tyre pressure and temperature changes to sound warning alarm once parameters are stretched.

- Displays pressure in KPa / bar.

- Displays temperature in °C / °F.

- Custom the upper and lower limit alarm value to suit your vehicle.

- Supports sensor pairing and sensor position swap procedure to facilitate tyre rotation.
Why Should You Install TPMS01 in Your Car?
On the Road

Long time friction on the road will cause the deformation of the tires, which will increase the risks of tyres bursting.

Severe Temperature Difference during Summer & Winter will cause the tyres to wear and even burst.

Nails in the tyres will cause the a risk of a flat

Save Fuel
Monitoring in Real Time
Designed to increase your driving safety and provide you with a better understanding of your vehicle's tyre conditions, XTRONS has applied the TPMS to many Android units, so that you can monitor your car's tyre conditions in real time.
Waterproof Sensor Design
Reliable & High-quality Sensor Chip: Infineon SP37, more stable and accurate data transmission.
Easy Sensor Installation
Remove the tyre valve cap.

Screw in the hexagon nut.

Screw the LR sensor onto the LR tire valve stem tightly.

Spin the hexagon nut counterclockwise tightly by the supplied spanner.
Package Includes:
4 x Sensor
1 x Wrench
1 x Hexagon nut wrench
4 x Waterproof rubber ring
1 x Receiver
4 x Hexagon nut
1 x User Manual
IMPORTANT INFORMATION: This TPMS is designed specially for a selection of XTRONS Android car head units. It is compatible with the following models:
TL702P, TB706APL, TB103AP, TB697P, TA701PL,TA695P, TA101P, TE103P, DTA707PL, TE706PL, TE103AP, TE697P, PF75FSFAP-B, PF75FSFAP-S, PF75QSFAP-S, PF75QSFAP-B, PF7546BAP, PF7553BAP, PF7590BAP, PF75AA3AP, PF75AA4AP, PF75ATTAP, PF75AA3ARP, PF75AA4ARP, PF75ATTARP, PF75JCCAP, PF75FFFAP, PF7539BAP,PF75HGTAP, PF75MTWAP, PF85MTVAP, PF75M203AP, PF75M211AP, PF75M245AP, PF75M164AP, PF75M209AP, PF75M220AP, PF75TRVAP, PB86MTVP, PB96MTVAPL, PB76MTWAP, PB76AA3AP, PB76AA4AP, PB76ATTAP, PB7639BAP, PB7653BAP, PB7646BAP, PB7690BAP, PB7681BAP, PB76M211AP, PB76M245AP, PB76M209AP, PB76M164AP, PB76M203AP, PB76M220AP, PB76QSFAP-B, PB76FSFAP-S, PB76FSFAP-B, PB76FSFAP-S, PB76HGTAP, PB76TRVAP, PB7635HAP, PB76JCCAP, PB76FFFAP, PB65WRJAP, PB76CYPAP, PB76IBSAP, PB76OLOP-B, PB76OLOP-S, PB76OLOP-G, PB9653BPL, PB9646BPL, PB86UNVP, PL91MTVP, PA87MTVP, PA97MTVPL, PA77MTWP, PA77AA3P, PA77AA4P, PA77ATTP, PA7753BP, PA7739BP, PA7746BP, PA7790BP, PA7781BP, PA77M211P, PA77M245P, PA77M209P, PA77M164P, PA77M203P, PA77M220P, PA77QSFP-B, PA77QSFP-S, PA77FSFP-B, PA77FSFP-S, PA77HGTP, PA17GFVPL-LB, PA77OLOP-S, PA77OLOP-B, PA77OLOP-G, PA77DLRP, PA77BYFP, PA77IBSP, PA7735HP, PA77DCRP, PE86M220PL, PE96M245PL, PE86M209PL, PE86M203PL, PE86M211PL, PE96MTVPL, PE86JCCPL, PE9690BPL, DPA87UNVP, PE86JCCPL, PE9690BPL, PA77GVSP, PE98MTVPL, PE98M245PL, PE9890BPL, PE9846BPL, PE9853BPL, PE88M203PL, PE88M209PL, PE88M211PL, PE88M220PL, PE88JCCPL, PB7839BP, PB7890BP, PB7846BP, PB78AA4RP, PB78AA3RP, PB78ATTRP, PB78AA4P, PB78AA3P, PB78ATTP, PB78M164P, PB78M203P, PB78M209P, PB78M211P, PB78M245P, PB78MTWP, PB78JCCP, PB78TRVP, PB78HGTP, PB78QSFP-S, PB78QSFP-B, PB78FSFP-B, PB78FSFP-S, PB78CYPP, PB78OLOP-G, PB78OLOP-S, PB78OLOP-B, PB78DLRPL, PB68WRJP, PB88UNVP, PB88MTVP.
Parameters:
Working Frequency: 433.92MHz
Receiver Working Temperature: -20°C ~ +70°C
Receiver Storage Temperature: -20°C ~ +80°C
Receiver Working Voltage: +5V ~ +12V
Sensor Working Temperature: -20°C ~ +85°C
Sensor Storage Temperature: -20°C ~ +105°C
13 YEARS' EXPERIENCE
In-Car Entertainment
XTRONS has been working continuously to bring the latest technology and concepts to your driving experience. We aim to develop long-lasting quality products with excellent customer service, allowing us to lead the aftermarket in-car entertainment industry.
The Xtrons Commitment
XTRONS is committed to providing high quality products and outstanding customer service, by ensuring that we meet and exceed industry regulations and standards, from manufacturing to distribution.
High and Low-Temperature Test between -20° and +80°
Electrostatic Test
8-hours Accelerated Aging Test
Verified In Car Test
Impact Test
1.2 Meters Drop Test
Product Support
Installation Videos

Product Videos

User Manuals

User Guides

Customer Support