Honda | Various | Reversing Camera | CAMCRV002
Honda | Various | Reversing Camera | CAMCRV002

160° HD Rear View Reversing Camera Specially Designed for Honda Jazz / CRV /Odyssey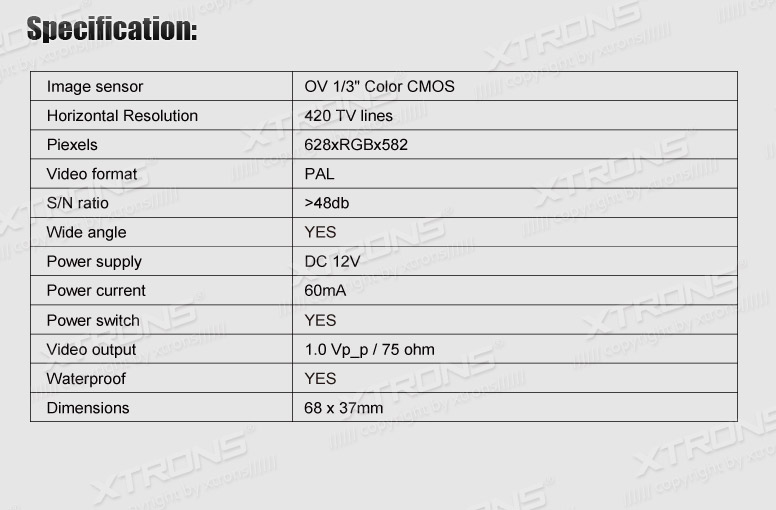 160° HD Rear View Reversing Camera Specially Designed for Honda Jazz / CRV /Odyssey
This camera is a custom reversing camera designed specially for use with Honda Jazz (2008 / 2011 / 2012 / 2013 / 2014), CRV (2007 / 2008 / 2010), and Odyssey (2009 / 2011 / 2013). Its unique design means that no holes need to be drilled. This camera will simply replace your existing rear license plate light cover, integrating seamlessly with the existing bulb.
(Please check the dimensions or part number of your original car number plate light and compare with the information/pictures on this listing before purchasing to confirm compatibility)
This camera is compatible with any aftermarket car head unit with a video input. If your aftermarket head unit has a dedicated camera input then the camera can be set up so that the rear-view image can be automatically displayed as soon as the car is put into reverse.
Please note this unit may not be compatible with the factory fitted head unit. requires RCA connection.
Night Sensor

CMOS Camera

160° Wide Angle Lens

Waterproof
160° wide viewing angle

for a better view of the blind spot behind, thus avoiding unexpected risks.

Waterproof and dustproof design

extends the working life of the unit.

Night Vision LED

to provide a clear view of it even in the dark.

Colour CM0S images sensor
Easy Install with the provided video input cable and power connector.
Accessories Included:
1 X Video Cable

1 X Power Cable

1 X User Manual

1 X Sticker
13 YEARS' EXPERIENCE
In-Car Entertainment
XTRONS has been working continuously to bring the latest technology and concepts to your driving experience. We aim to develop long-lasting quality products with excellent customer service, allowing us to lead the aftermarket in-car entertainment industry.
The Xtrons Commitment
XTRONS is committed to providing high quality products and outstanding customer service, by ensuring that we meet and exceed industry regulations and standards, from manufacturing to distribution.
High and Low-Temperature Test between -20° and +80°
Electrostatic Test
8-hours Accelerated Aging Test
Verified In Car Test
Impact Test
1.2 Meters Drop Test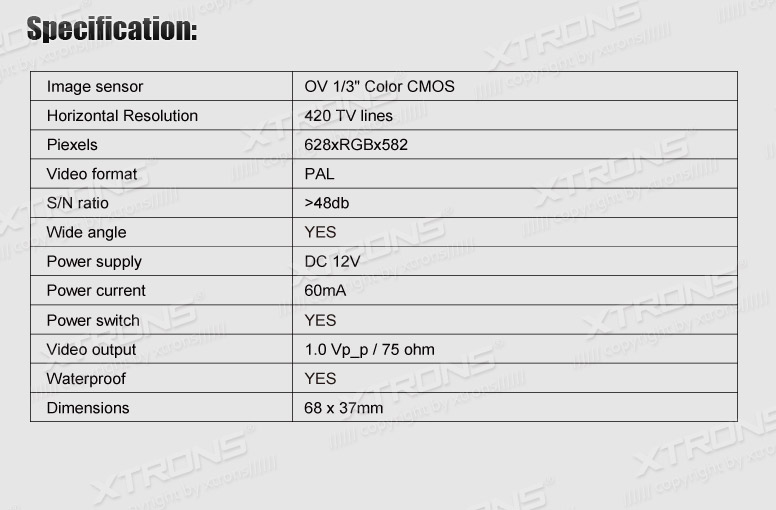 Product Support
Installation Videos

Product Videos

User Manuals

User Guides

Customer Support