9-inch | One Pair Car Headrest DVD Player | HD923BD
9-inch | One Pair Car Headrest DVD Player | HD923BD

2 x 9" HD Digital Leather Cover Car Headrest DVD Players with Zipper Design
HD
This 9 inch HD screen offers you the ultimate view of your back seat entertainment.
FAST AND EASY INSTALLATION
No modifications necessary, no special equipment needed
Simple wiring and seamless integration with your car's interior, for outstanding entertainment with a discreet and stylish look.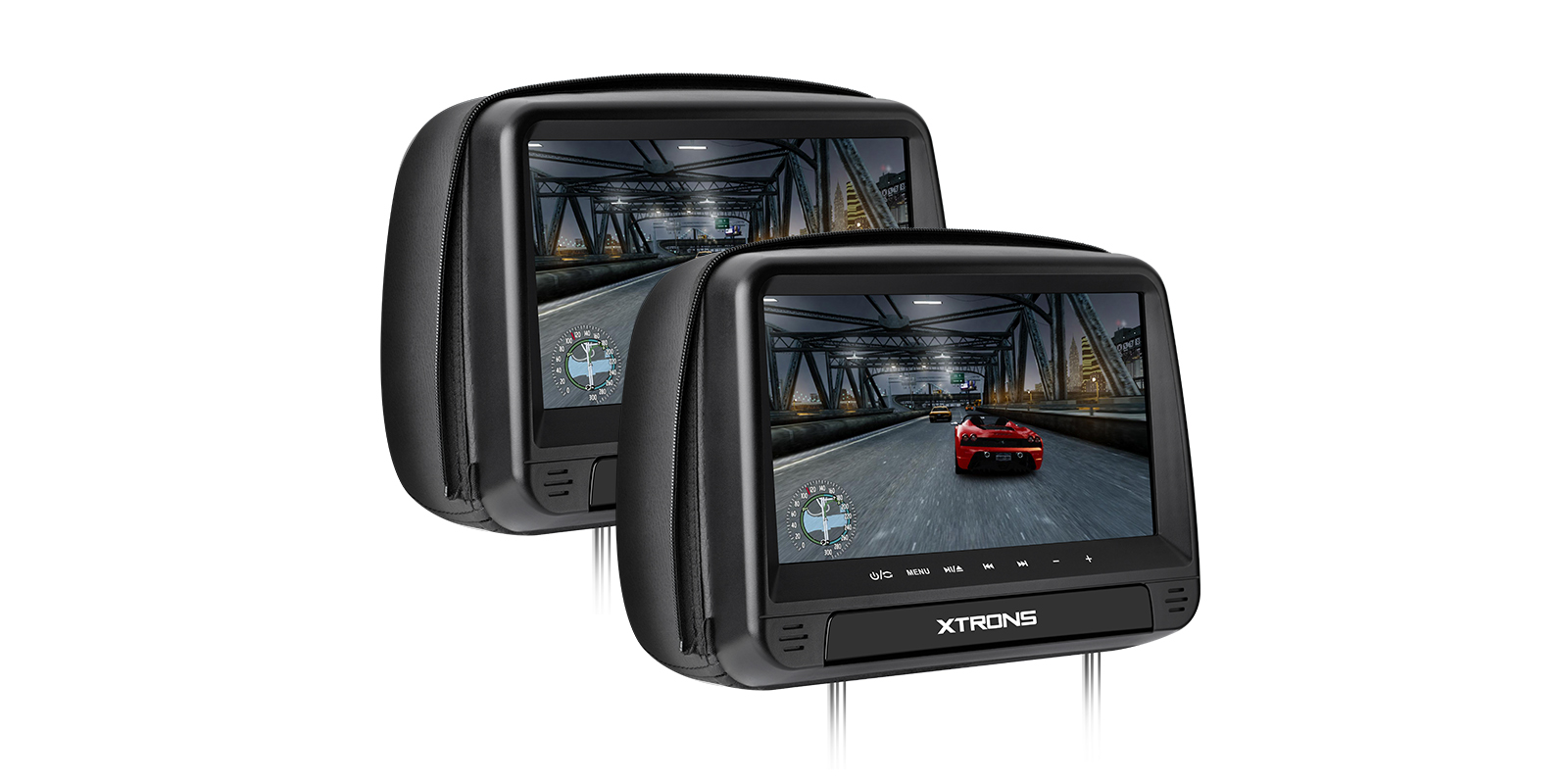 HD VIDEO 
Outstanding Clarity
Gone are the days of lagging or choppy video playback. Play full HD videos smoothly, with vibrant colours and sharper images
SHARE YOUR ENTERTAINMENT
Simultaneous Play
With the Audio Visual Output, you can share all kinds of entertainment with your passengers. Just insert the USB/SD or put a disc into one of the DVD players and connect with an RCA cables. No crowding round a single screen!
SLOT LOADING DISC DESIGN
Kid Friendly
Based on a slot-loading mechanism, meaning that the disc is mechanically pulled in from the top. This eliminates the need to flip open the unit manually, saving you space and avoiding accidental damage.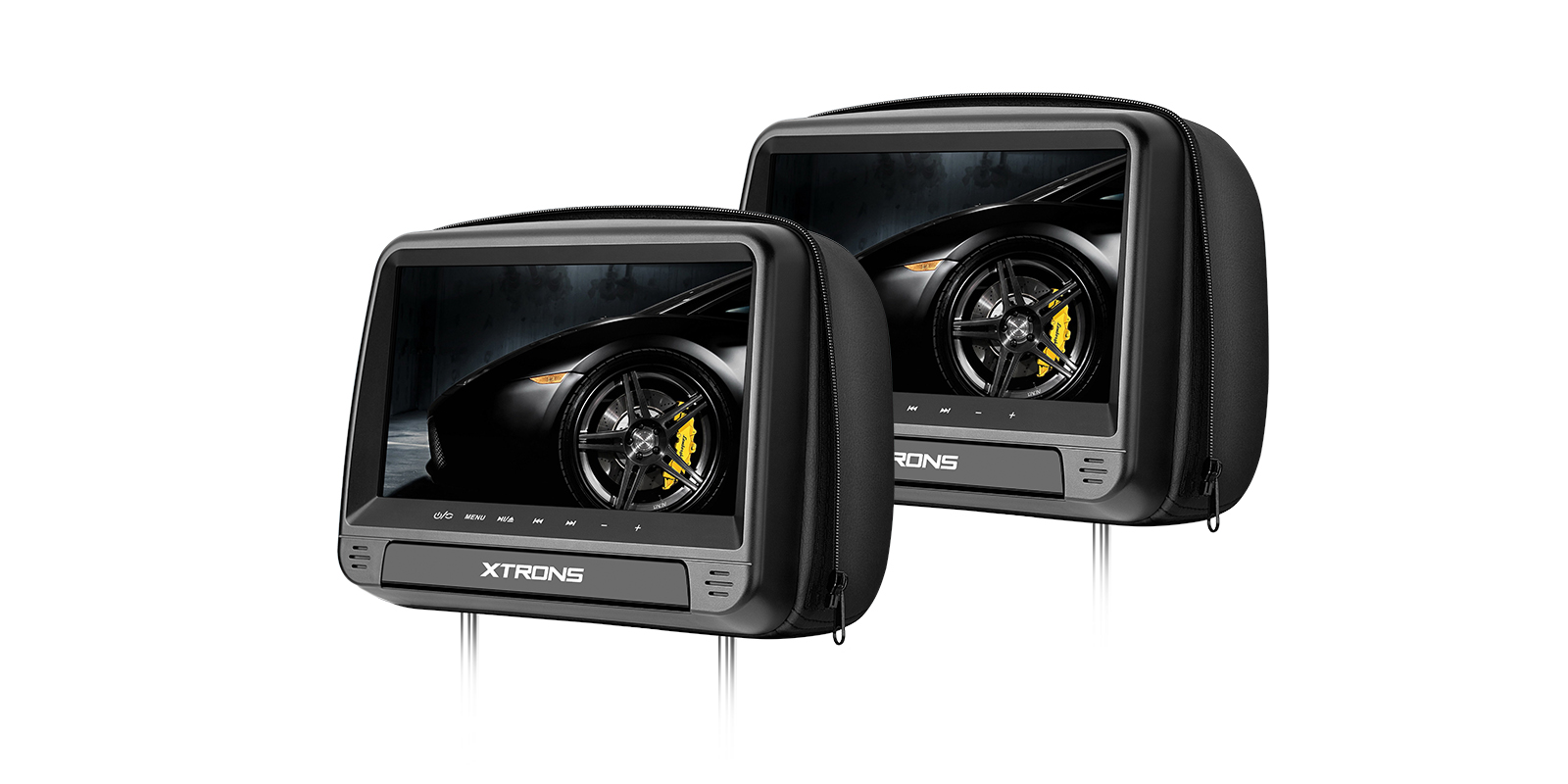 HDMI INPUT
Bring your favourite console
The HDMI input allows you to hook up your smartphone and even games consoles. Supports Nintendo, Playstation and Xbox. Stream games and video directly onto the monitors and make every drive a fun drive.
Region Free
Slot Loading
IR Transmitter
Anti-Theft Cover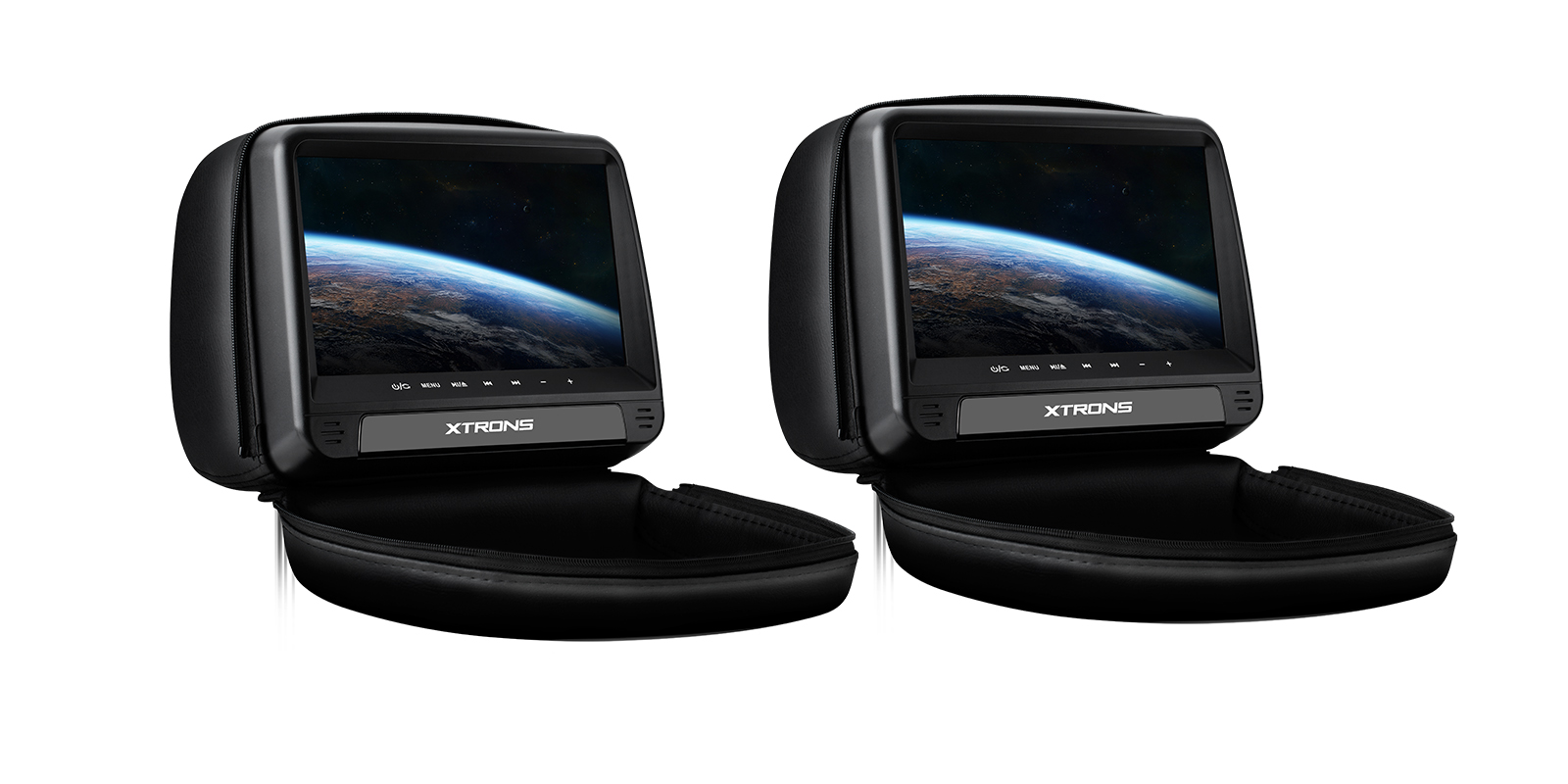 HD Screen
AV Outputs
Two-way Power Supply
USB/SD/HDMI
Designed to match your car's interior styling perfectly, giving a flawless finish. Upgrade your in-car technology without compromising on look.
SIZE
Head Unit: 235Wx190Hx130L(mm)
Adjustable Headrest Poles
Inner Width: 100mm - 140mm
ACCESSORIES INCLUDED
2 x ISO Wiring Harness
4 x Poles
2 x 4.0mm Cigarette Lighter Adapter
6 x Plastic Drivepipes (16mm, 14mm, 13.8mm, 12.7mm, 12.5mm, 12mm)
1 x Game Discs
2 x Remote Control
1 x User Manual
IMPORTANT NOTE:

1. Please check whether there is ABRS(air bag restraint system) inside your car's seat, If there is, this unit will NOT fit your car.

2. Please check the distance between your current headrest poles before purchasing.The adjustable bracket distance for this head rest is as the image shows.

3. The headrest only works for NON-ELECTRIC headrests.
Important Note: 
You can output sound through options below.
Choice 1: Built-in IR Transmitter
The IR transmitter allows you to enjoy audio files with wireless headphones. It supports dual channel (A&B) wireless infrared headphones.
A: 2.3-2.8MHz B: 3.2-3.8MHz
Note: IR headphones are not included. XTRONS DWH002, DWH003, DWH005, DWH006 and DWH007 are compatible.
Choice 2: Built-in FM Transmitter
The FM transmitter can send the audio signal from the roof monitor to the other radio receiver (car stereo), then you can share the audio with other people.
9 Available Frequencies
87.7 88.1 88.5 88.9 106.7 107.1 107.5 107.9 OFF
Choice 3: Built-in Speakers
Play audio directly from the unit.
13 YEARS' EXPERIENCE
In-Car Entertainment
XTRONS has been working continuously to bring the latest technology and concepts to your driving experience. We aim to develop long-lasting quality products with excellent customer service, allowing us to lead the aftermarket in-car entertainment industry.
The Xtrons Commitment
XTRONS is committed to providing high quality products and outstanding customer service, by ensuring that we meet and exceed industry regulations and standards, from manufacturing to distribution.
High and Low-Temperature Test between -20° and +80°
Electrostatic Test
8-hours Accelerated Aging Test
Verified In Car Test
Impact Test
1.2 Meters Drop Test
HD

High Definition provides a crisp resolution, maximising your in-car entertainment experience.

USB

A built-in USB port to upload, download & connect your music, files and information on the move.

DVD

Enjoy the full DVD experience from the comfort of your own car.

SD

The SD card portal allows for additional access to your personal files and information, for easy exchanges.

HDMI

Connect & transmit your digital audio & video to display on screen.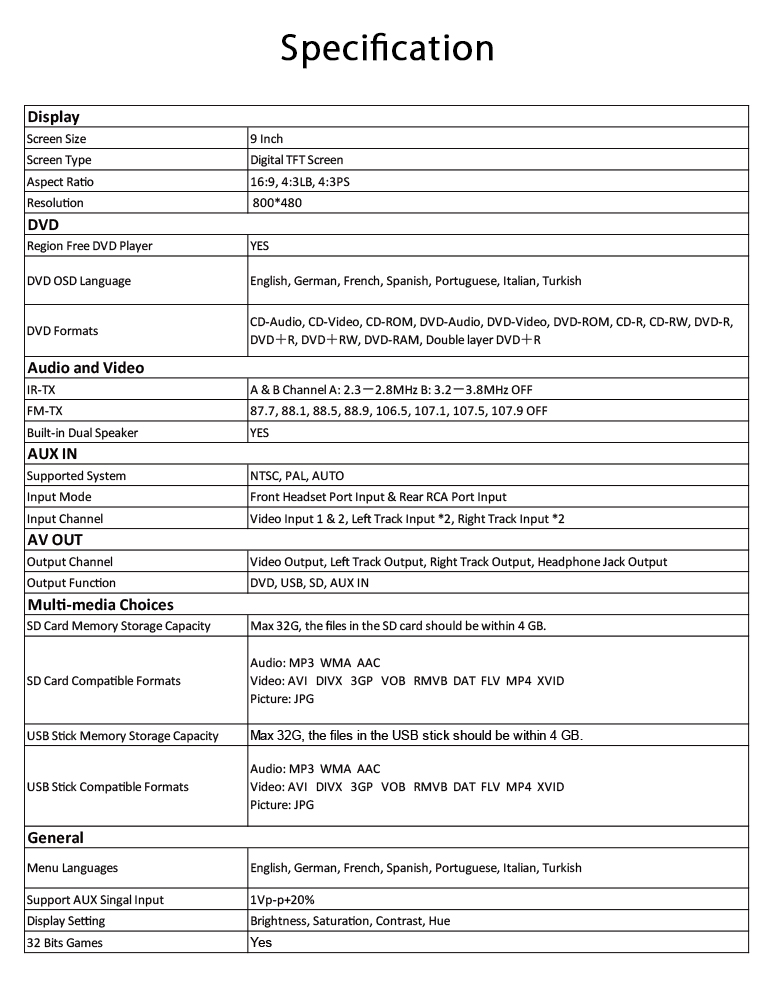 Product Support
Installation Videos

Product Videos

User Manuals

User Guides

Customer Support