13.3" | Octa-Core | 2GB RAM & 16GB ROM | Touch Screen | Android 10 | Headrest Player | HM135AS
13.3" | Octa-Core | 2GB RAM & 16GB ROM | Touch Screen | Android 10 | Headrest Player | HM135AS

1080P FHD Touch Screen 13.3" Octa-Core Android 10 Headrest Player with Superior Texture and Craftmanship Colourful Ambient Light Multiple Media Choices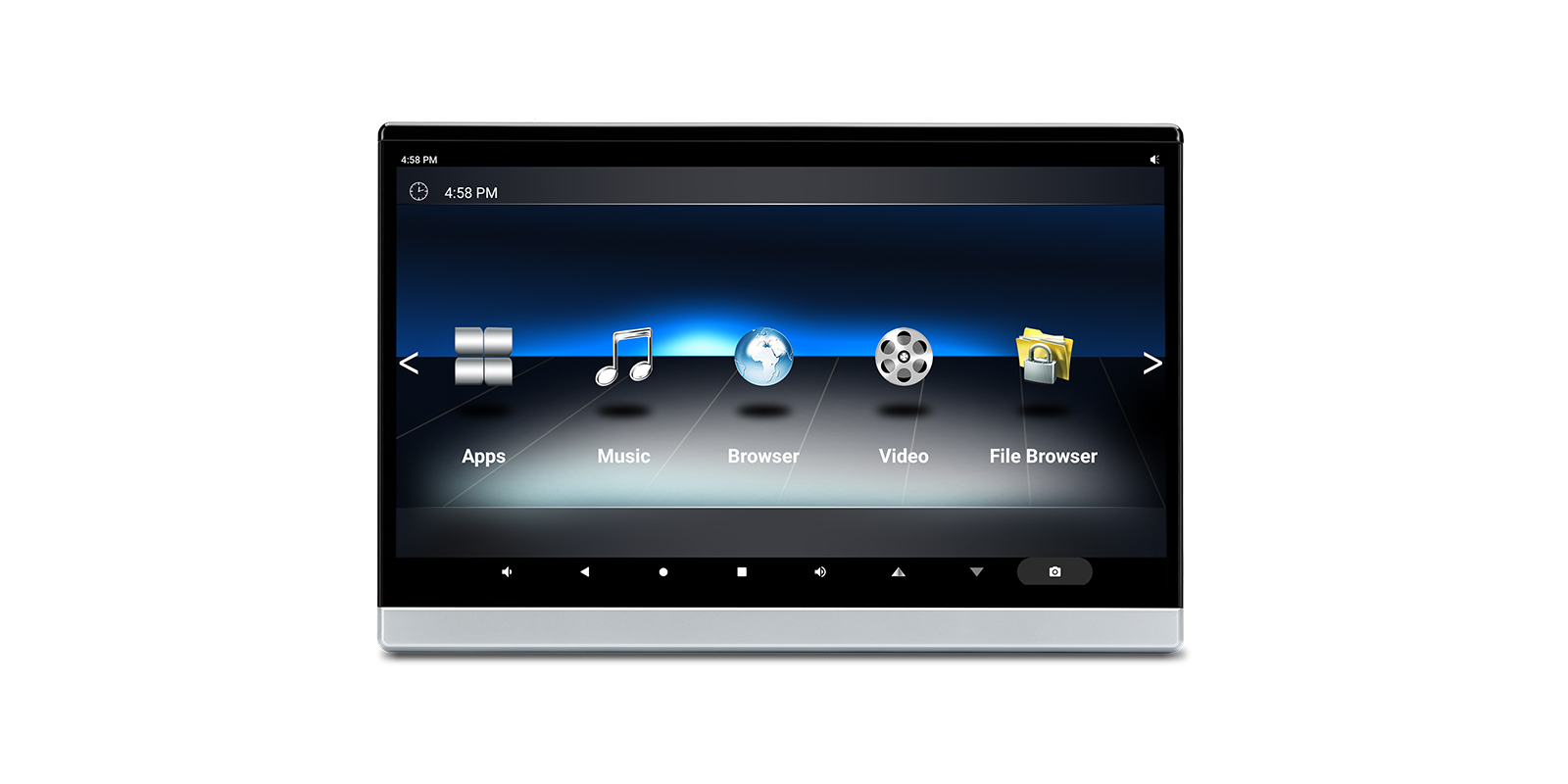 1080P FHD Android Headrest Player
Android 10
With an Android 10 platform, deeply customised for automotive rear seat entertainment, you can enjoy a faster and more tailored user experience with plenty of updated apps and more entertainment than ever before.
FAST AND EASY INSTALLATION
Please see our headrest player installation guide 
There are three ways to power the headrest player- by plugging the adapter into your vehicle's cigarette lighter port, by connecting the ACC, B+ and GND cable to your car's fuse box, or by buying an optional XTRONS AC05 (not included) to use at home.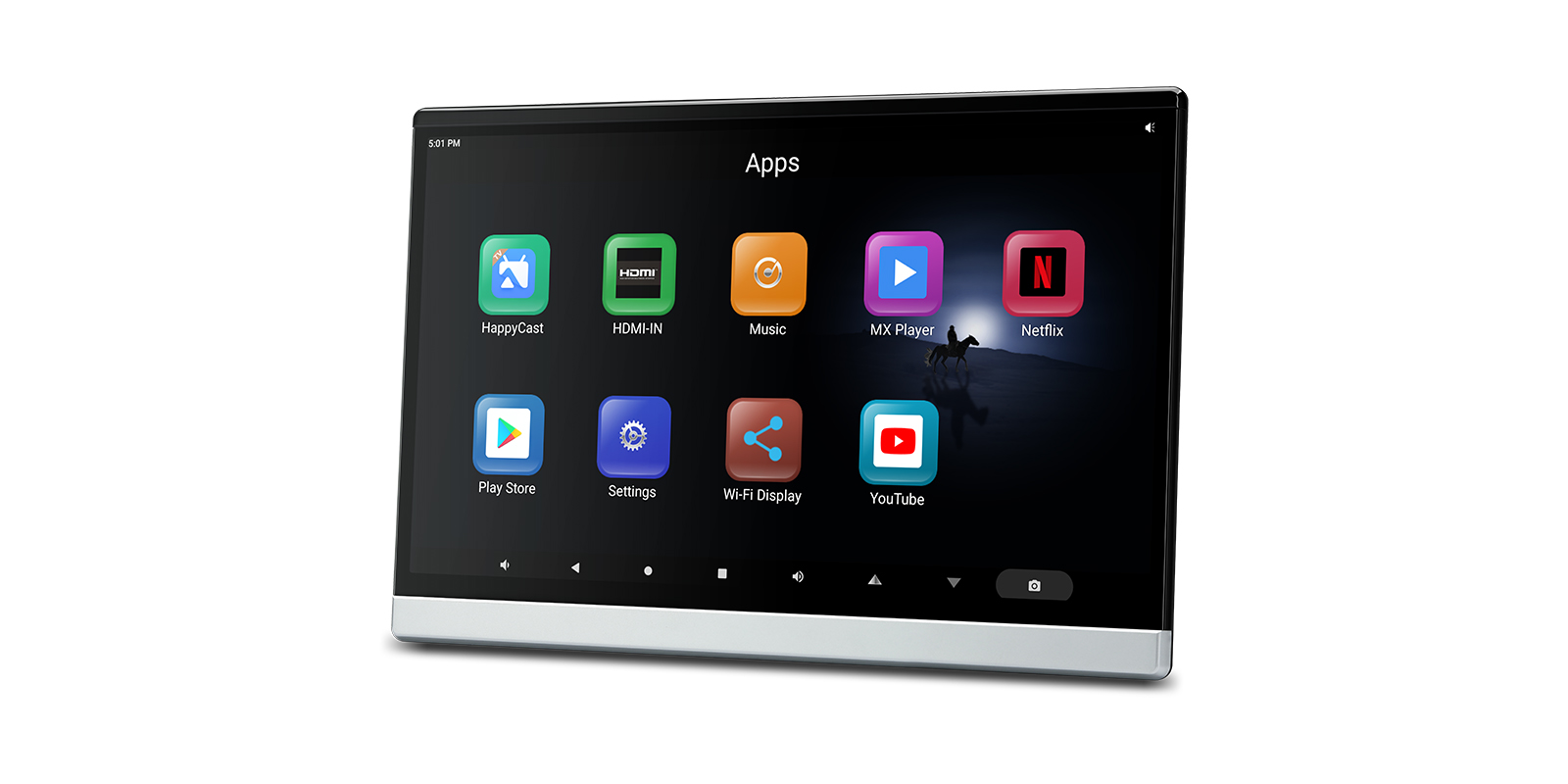 Efficiently Multitask 
Octa-core Processor and 16GB ROM
Octa-core processor with 1.5GHZ together with 16GB ROM enables the unit to handle different apps and efficiently multitask without missing a beat. It unlocks the maximum performance. 
Crafted to Look Perfect from Any Angle
Designed to be elegant and minimalistic in style to every last detail, seamlessly blending with any vehicle. The stunning texture gives you the secret to interior harmony. 
13.3-inch Full HD Screen
The industry-leading 13.3" 1080P FHD screen delivers a truly immersive viewing experience, displays more content and resolves sharper images.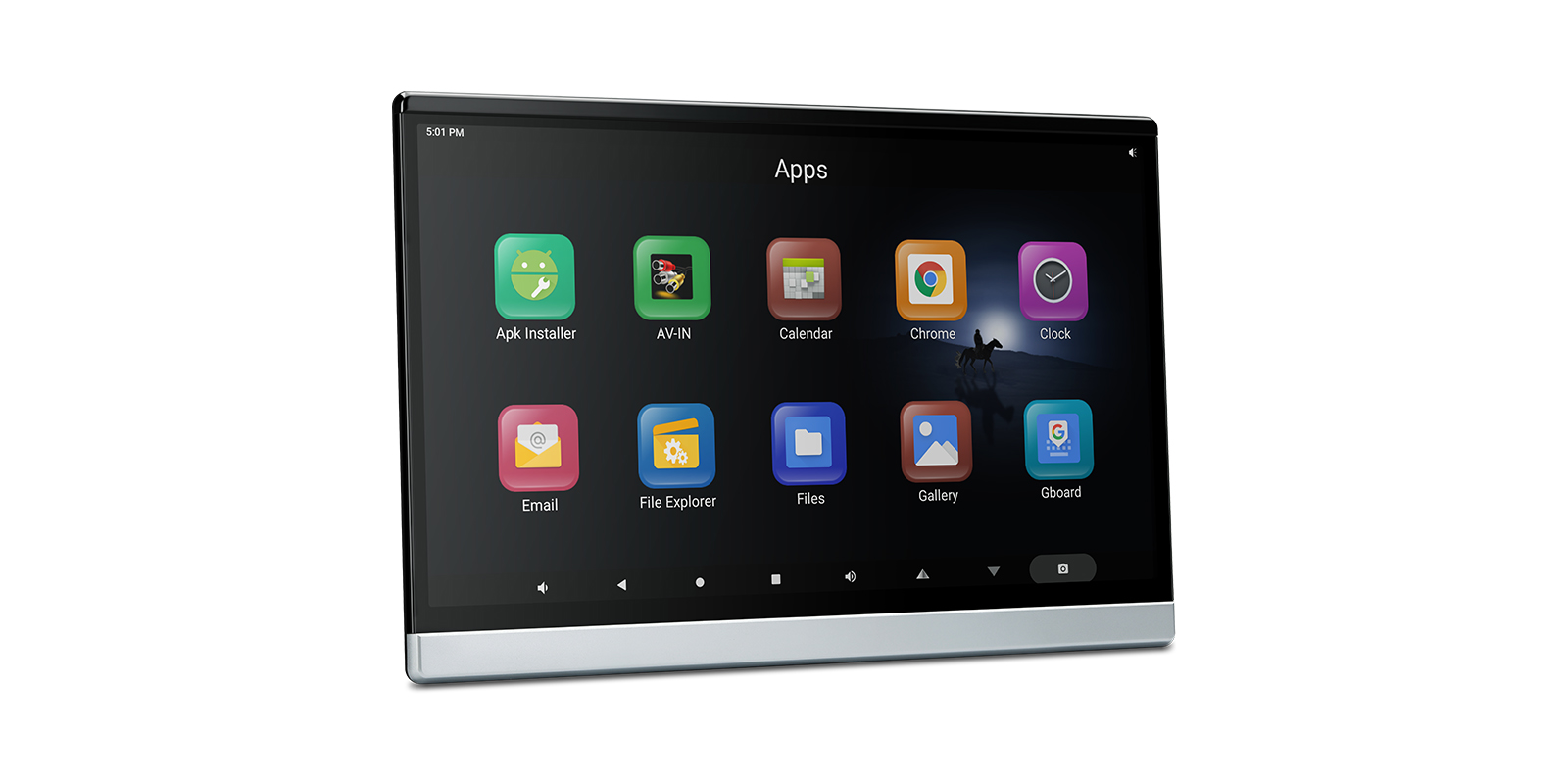 Multiple Colour Ambient Light
Set the perfect tone
With multicolour ambient lighting on the back, you can set the perfect tone for every journey. The power button will light up to be more visible at night as long as the unit gets power.
1920x1080 Pixels
Screen Mirroring
16:9 Wide Screen
Multiple UI Themes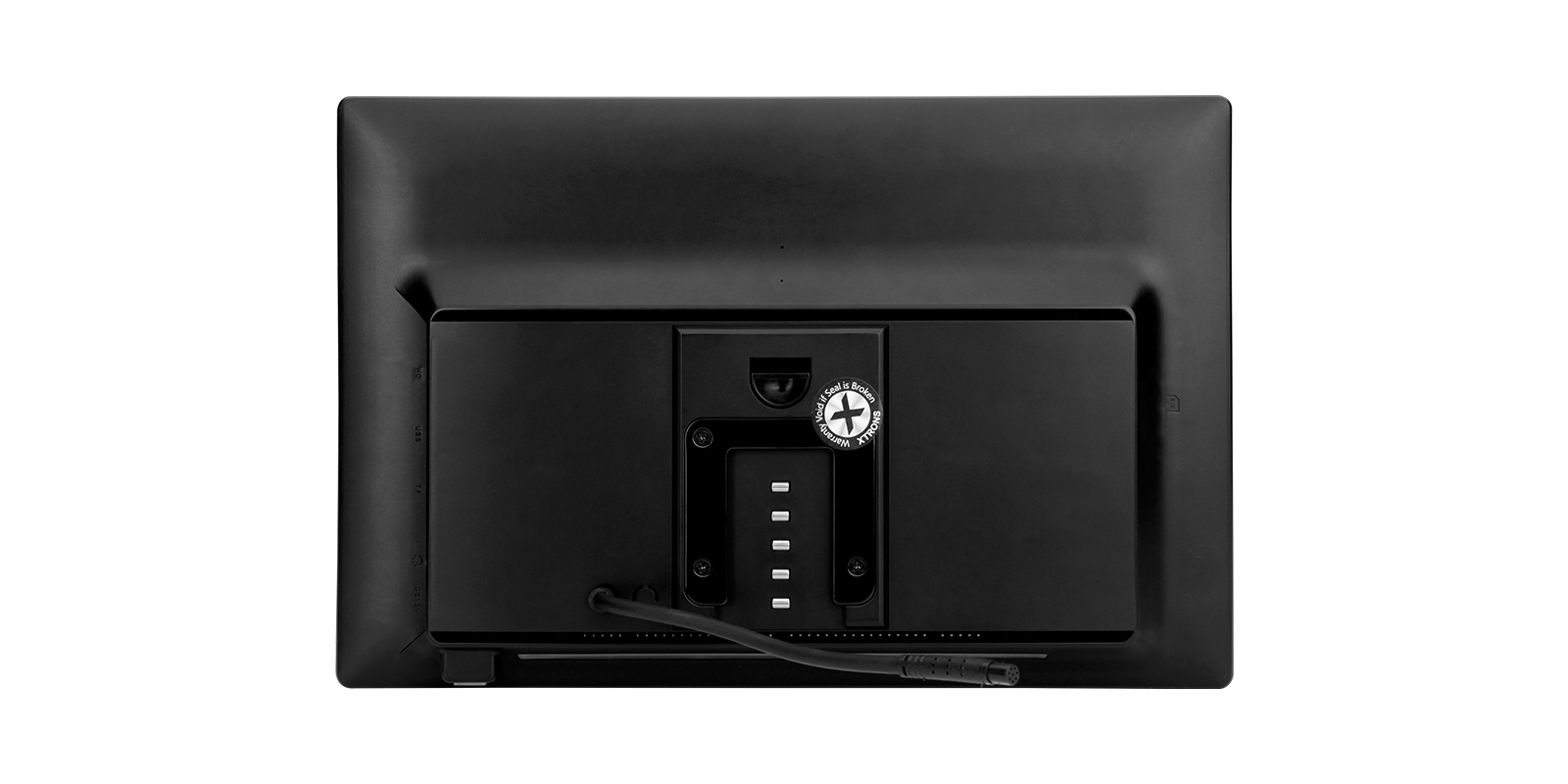 Built-in WiFi
IR/Bluetooth Audio Output
Built-in Speaker 
USB/TF Card/AV/HDMI
Support 2K Video
Gone are the days of fuzzy video playback, this headrest player always plays full 2K HD video smoothly, with vibrant colours and sharper image.
Multiple Media Choices
Allows you to enjoy movies, music, videos or TV shows from many different sources, such as USB sticks, SD cards or any devices has HDMI output functions
Built-in WiFi Module
It has faster LTE download speeds with the built-in Wi-Fi. You can also enjoy the convenience of internet access and sharing with an optional XTRONS 3G/4G dongle 3GDONG008/4GDONG001 (not included), simply insert the SIM card to the dongle.
Wirelessly Connect Your Phone to the Larger Display
By connecting your phone via hotspots you can utilize the inbuilt screen mirroring function. Any content from your smartphone can be mirrored onto the display of the headrest player.
Four Audio Output Options
Output sound directly with the built-in speaker, wired 3.5mm earphones, Bluetooth Headphones or your original vehicle speakers.
SIZE
Face Panel: 308x203x12mm
ACCESSORIES INCLUDED
1 x ISO Wiring Harness
1 x Bracket Box
1 x Cigarette Lighter Adapter
5 x Plastic Drivepipes
1 x ISO Adapter Cable 
1 x Manual
13 YEARS' EXPERIENCE
In-Car Entertainment
XTRONS has been working continuously to bring the latest technology and concepts to your driving experience. We aim to develop long-lasting quality products with excellent customer service, allowing us to lead the aftermarket in-car entertainment industry.
The Xtrons Commitment
XTRONS is committed to providing high quality products and outstanding customer service, by ensuring that we meet and exceed industry regulations and standards, from manufacturing to distribution.
High and Low-Temperature Test between -20° and +80°
Electrostatic Test
8-hours Accelerated Aging Test
Verified In Car Test
Impact Test
1.2 Meters Drop Test
HD

High Definition provides a crisp resolution, maximising your in-car entertainment experience.

Bluetooth

Hook up your head unit to any Bluetooth device and access music, share videos and make calls hands-free.

4G

Make the most of surfing the internet without relying on Wi-Fi. Optional dongle required.

3G

Enjoy the ability to roam the internet freely without restriction. Optional dongle required.

USB

A built-in USB port to upload, download & connect your music, files and information on the move.

DVB_T

Benefit from Digital Video Broadcasting & stream straight to your unit with an optional receiver.

SD

The SD card portal allows for additional access to your personal files and information, for easy exchanges.

HDMI

Connect & transmit your digital audio & video to display on screen.

Microphone

Making hands-free Bluetooth easier and safer, as callers can hear you with improved clarity. Optional mic required.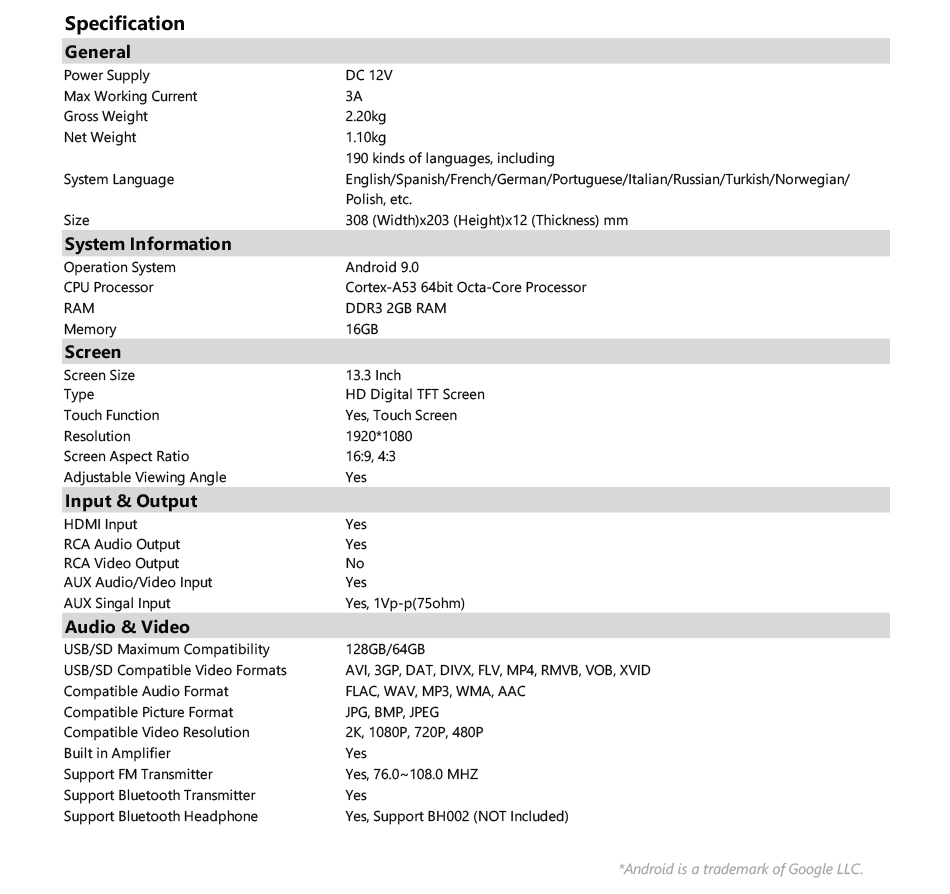 Product Support
Installation Videos

Product Videos

User Manuals

User Guides

Customer Support